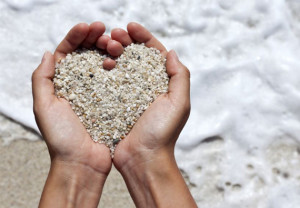 For every listing or feedback  on Medical Tourism Directory, MediTourDirect commits to sponsoring an underprivileged person in Costa Rica with a sight test or dental check.
Please use the Feedback Form HERE to tell us about your bookings and register on the Give Back counter.

MediTourDirect volunteers help Gives Back following Hurricane Otto – November 2016
On 22 November 2016, Hurricane Otto hit Costa Rica, causing death and destruction and leaving many families flooded and homeless.
Meditourdirect donated health and food supplies at the Red Cross and volunteered for the weekend to receive, sort and load relief supplies on trucks destined for the afflicted zones.
It was truly humbling to work shoulder to shoulder with people who give selflessly in this service everyday.
The handwritten messages on the donations said it all- 'We are praying for you', 'I love you', 'Sending you hugs and kisses', 'God Bless you', 'God help you', 'Soon you will move forward'.
Thank you to our providers for listing with us and to our clients for sending us reviews on our providers. Your contribution made our Give Back possible.
In order to make our next Give Back possible, please send a review or apply to list on our directory, by clicking here.
MediTourDirect volunteers help Gives Back smiles in Talamanca – December 2014
MediTourDirect has a Give Back program – for every provider listed on Medical Tourism Directory Costa Rica and every feedback we receive from users of the Directory, we sponsor a sight test or dental check for an underprivileged person in Costa Rica.
As part of this Give Back initiative, last week David and Claire of MediTourDirect traveled to the Talamanca indigenous reserve with a health and education volunteer group.
A volunteer team of Costa Rican dentists including Dra Karlyn & Dr Felipe Martinez provided dental examinations, restorative and preventative procedures to many Talamancans, some of whom walked near and far from various communities to receive dental care. They were joined by Dr Izchak Barzilay of a prosthodontics specialist from Toronto, Canada and his assistant Michelle. Dr Barzilay donated his time to develop a protocol for addressing the severe edentulous problem amongst this people.
'One picture speaks a thousand words' so here's a taste of our experiences:
MediTourDirect would like to thank all providers listed at Medical Tourism Directory Costa Rica and all users who have given feedback on the Directory or on the providers they have visited in Costa Rica, also thanks to the Talamanca volunteer group.
Without your support and feedback, none of this Give Back would have been possible. If you have recently used the services provided at Medical Tourism Directory Costa Rica – we need your feedback for 2 reasons
1) to share your feedback on the Directory, so that future users of our websites have valuable independent information
2) to enable us to continue with our Give Back initiative.
Please click to send us your FEEDBACK  – Thank you.
Simon did it! 'The Toughest Footrace on Earth' – sponsored by MediTourDirect – June 2014
A few months back, MediTourDirect announced its sponsorship of Simon Dimmer, who was rising to the challenge of Marathon De Sables – a 250km race in the Moroccan Sahara Desert. Our sponsorship of Simon, not only promoted MediTourDirect to a worldwide audience, more importantly, donations went to St David's hospice, Wales, United Kingdom.
Almost recovered from his challenge, Simon commented: "I finished in a time of 46 hrs 23 minutes and 47 secs…, placing me in the top half, which was my goal..hottest temperature officially recorded was 127 degrees, around 100+ people did not make it, for various reasons….from skin removed from feet bottom, to exhaustion, dehydration and at least 1 poor guy medivacked out by helicopter in a coma….Brutal it was, but a good feel of camaraderie in the camp. Running through the desert at night following a laser light 30 miles away, was my high spot, running across the long dry salt plains on the 81kms stretch in the middle of the day… the very lowest point.
My favourite story – the one of the chap from New Zealand, who having been on an IV drip for 2 hrs was told he could not continue….he promptly ripped out the tube, danced the Haka and was then told he may continue!
All in all every bit as tough as they say it is….but well worth it if you get the chance!"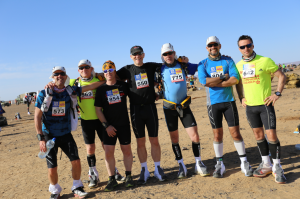 We have some wonderful Orthopedic Surgeons here in Costa Rica when you need them Simon! Well Done from the MediTourDirect team!
MediTourDirect sponsors 'The Toughest Footrace on Earth' – April 2014
MediTourDirect are delighted to announce their sponsorship of Simon Dimmer, who will participate in the Marathon De Sables in April. The 250km race takes place in the Moroccan Sahara Desert. It is the equivalent of running 6 back-to-back marathons in one of the hottest places on earth, with temperatures up to 52 degrees Celsius and a tough sandy/hilly terrain. One day/night is 80kms non-stop, so competitors will be running through the desert at night.
In the history of the race there have been two deaths and one missing in action. Some don't finish, a few collapse dehydration and some just give up with large blisters.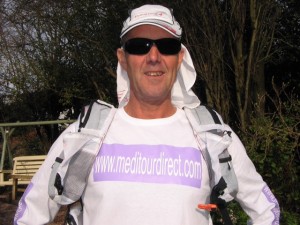 Personal Training – Simon has been using Rory Coleman, MDS veteran who has done the race more times than any other Britain. He has seen many first timers fail. His main advice is travel light. Simon has lost 9lbs in weight and is limiting his rucksack to 7,5kgs. His training schedule includes power running, time in the gym and tough endurance races.  As he will  be dehydrated, and calorie deficient at times, he needs to be mentally tough to get out of them. Its as much a mind game as a physical one.
Finally Simon will have Heat Chamber training for one week before leaving the United Kingdom where he will train in temperatures of 40degrees, fully clothed. Under these conditions he is likely to lose 3,5 litres of water per hour.
Simon is motivated by 2 factors. One, to complete a race that is described as the Toughest Footrace on Earth and the other to raise funds for St David's Hospice, "where people face a much tougher battle than mine across the desert".
Simon is running in support of St David's Hospice, Wales, United Kingdom. If you would like to join MediTourDirect in sponsoring Simon in this event, please use this link
http://www.justgiving.com/Simon-Dimmer
For more information on Marathon De Sables
In his early days, Simon ran Marathons with David Charnock, co-founder of MediTourDirect. At this stage, David prefers us to sponsor Simon, rather than participate himself!
The event will be televised by Discovery Channel – a great opportunity to promote MediTourDirect – Medical Tourism Directory Costa Rica to a worldwide audience.
Thank you, you've been added to the list!